High-spec phototherapy equipment that meets Dermatologists' needs
cellecV is a Xenon phototherapy equipment(C-IPL: Cooling Intelligence Pulsed Light)that delivers a range of wavelengths between 420nm to 1200nm with high absorption properties for hemoglobin and melanin. A Xenon light therapy is a typical treatment method for photo-cleansing that is popular in the medical esthetic market. cellecV safely performs highly effective treatments by making full use of multiple wavelength properties, which other laser devices do not have.
Product Features
A bespoke treatment plan with cellecV that makes you feel a good choice
Flexible irradiation settings to improve patient satisfaction
cellecV is a highly functional phototherapy device equipped with Multipath Feature that efficiently raises the temperature of the target while preventing excessive temperature rise of the epidermis. Yet, it is easy to operate like conventional phototherapy devices.
Flexible Multipath Feature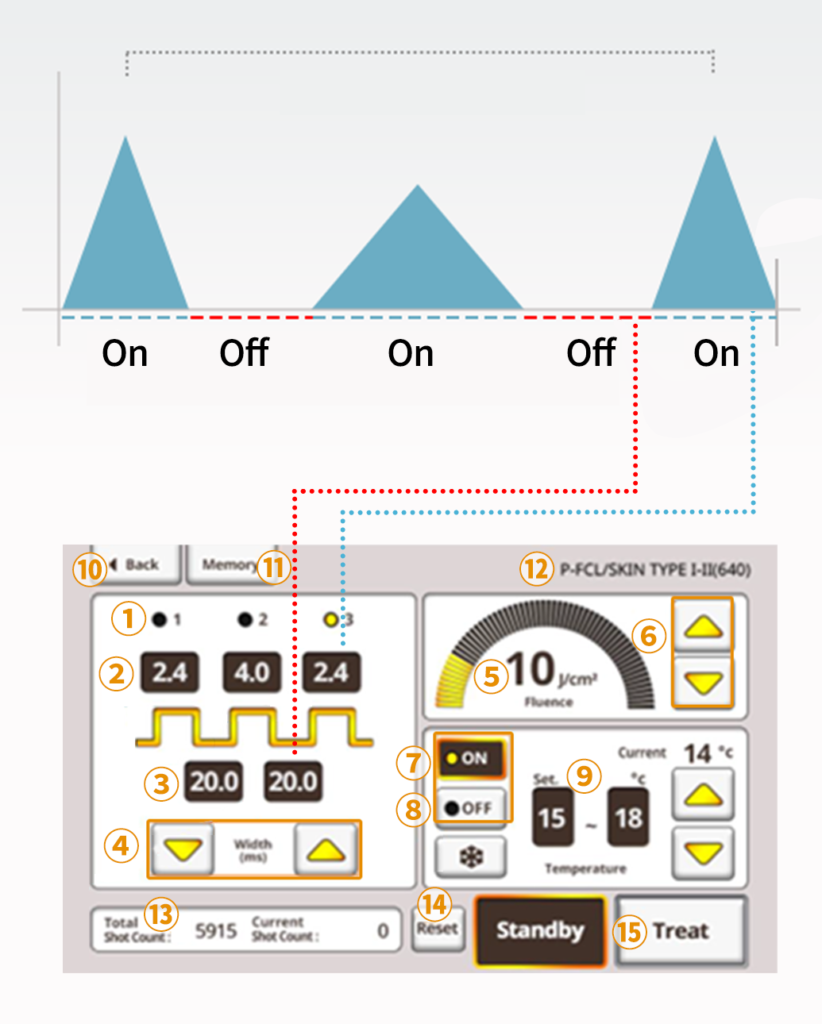 Up to 3 pulses per shot
Adjust in 0.1ms steps
cellecV is a high-spec phototherapy equipment that permits flexible adjustment of Pulse Light. You can optimize its pulse repetition frequency per shot(up to 3 pulses), as well as pulse peak time and valley time (onetime/OFF time) in increments of 0.1ms .You can make a fine adjustment of light energy emittance with optimal timing and sharpness, such as setting only the first pulse hit strong while observing the patient's reaction. You can provide the optimal treatment for each patient without having "dissatisfaction with irradiation settings", which you tend to regret after introducing conventional machines.
Nine types of filters as standard equipment for even more effective and precise treatment
The system is endowed with 9 different types of wavelength cut-off filters, covering visible light and near-infrared rays in the wavelength range of 420nm to 1200nm, which are effective for vascular lesions and pigmented lesions. Precise and safer treatment is available by simply choosing appropriate filters in accordance with the skin type and target depth. It is much easier to operate compared with treatment machines that need to exchange handpieces.
Targets by filter types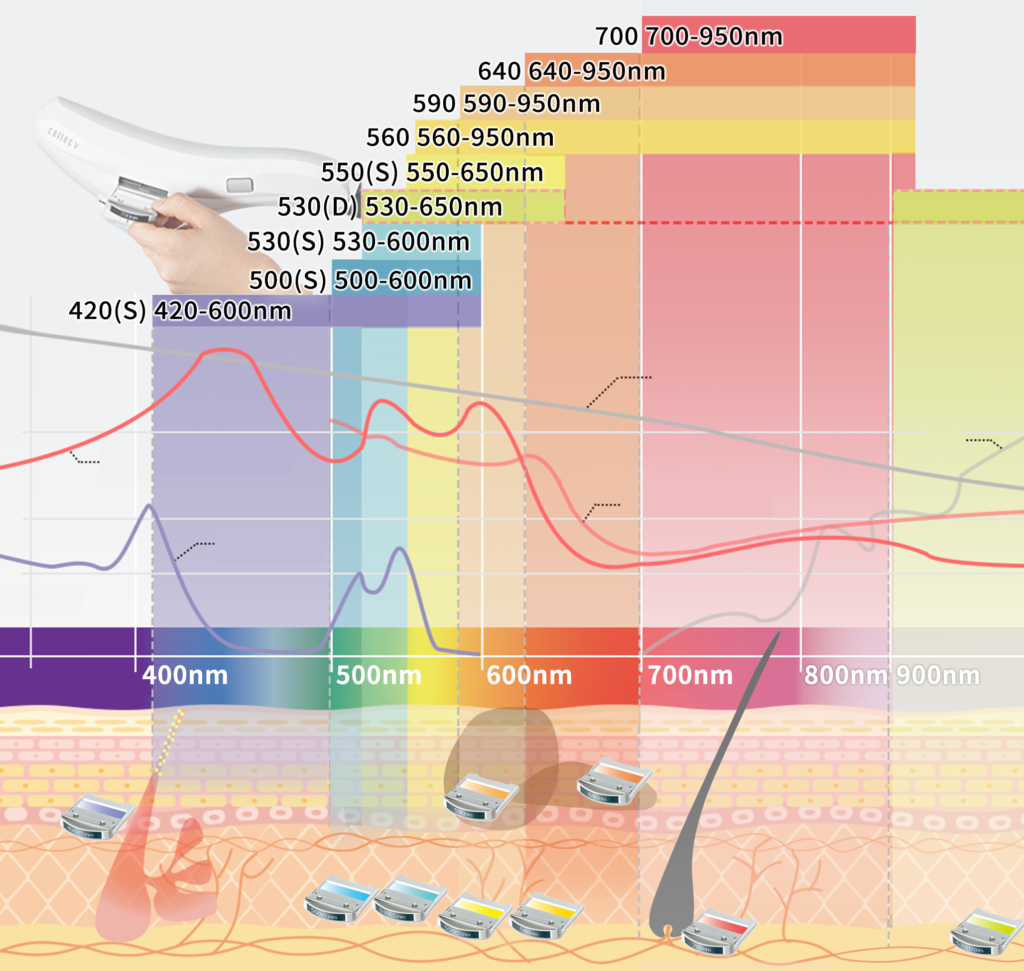 melanin
oxyhemoglobin
methemoglobin
water
porphyrin
↑ Absorbance
Wavelength range
Epidermal layer
Dermis layer
Fat layer
Acne bacillus
Flat, light colored mole
Melasma
Superficial pigmented lesions (spots, dark spots, etc.)
Superficial vascular lesions (telangiectasia, rosacea, etc.)
Hair loss
Vascular lesion
Dual filter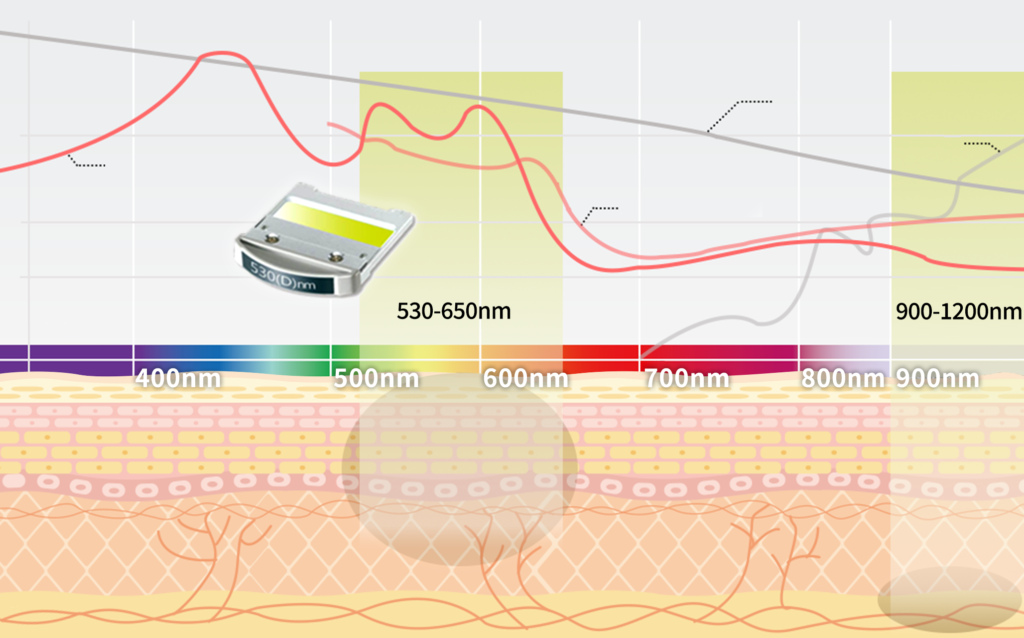 melanin
oxyhemoglobin
methemoglobin
water
↑ Absorbance
Epidermal layer
Dermis layer
Fat layer
Effective treatment of vascular lesions is capable with specialized dual filter taking advantage of the high absorption rate to oxyhemoglobin in the short wavelength band, and the high absorption rate to methemoglobin in the long wavelength band.
With cellec V, making effective results For Acne and Melasma treatment also
Low power and hypoallergenic toning treatment at 100 microsecond intervals
While conventional phototherapy machines generally irradiate at millisecond intervals, cellecV is equipped with a toning mode that achieves high-speed, low-irritation irradiation at 100 microsecond intervals. Cell toning with low output enables treatment of pigmented diseases, while preventing the induction of complications such as PIH. The device provides a faster and safer approach to pigmented lesions such as Melasma and PIH.
Cell Toning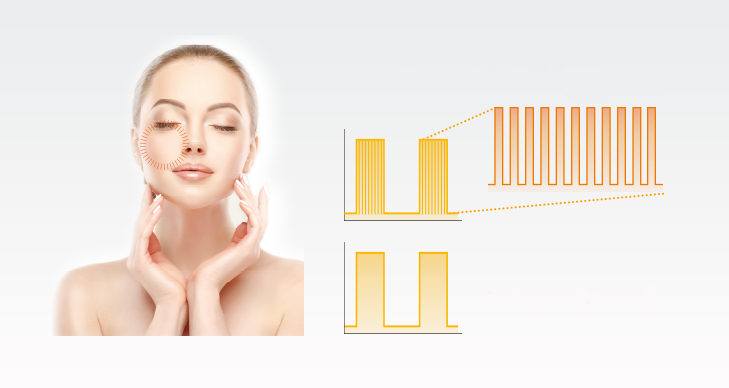 Cell Toning (microsecond)
Uniform irradiation in microseconds (up to 200 pulses)
Normal pulse (millisecond)
The cell toning mode outputs a maximum of 200 pulses in 40 ms . When this mode is selected, pulse duration and stop time can be set between 0.1 ms and 0.9 ms, respectively.
【BUTTON( POTENZA for Melasma): A New Approach to Melasma Treatment】
Short acne treatment just in one minute
Photo shower™ Technology
Irradiation of the continuous light
(5Hz/sec. maximum) at 300pulse per minute
5pulses(shots)/second
5pulses(shots)/second
Photo Shower™ technology emits 300 pulses/per minute continuously to allow a safe and quick procedure of acne treatment, as well as brightening (560), semi-lifting (700),by selecting the appropriate filters for each.
※5 shots(5Hz) per second(300 shots / per minute)
Patients' needs are:
Skincare treatment with no downtime
age spots/stains removal
Episodic pigmentation / senile pigmentation( removal)
freckles treatment
rosacea/redness skin treatment
telangiectasia( treatment)
fine line treatment
pores treatment
skin texture/tone improvement
acne prevention
lightening melasma
Flat, light-colored, small mole removal
hair removal
SAFETY FEATURES
Equipped with ATC™※ technology that keeps the contact surface below 5℃ during irradiatio
cellecV is equipped with -10℃ powerful cooling "ATC technology" and is designed to lock the irradiation when the temperature of the light guide(irradiation surface ) exceeds the set temperature. Suppressing the rise in the temperature of the contact surface of the skin not only avoids the risk of burns, but also reduces the burden on the patient by cooling, which reduces the pain during irradiation.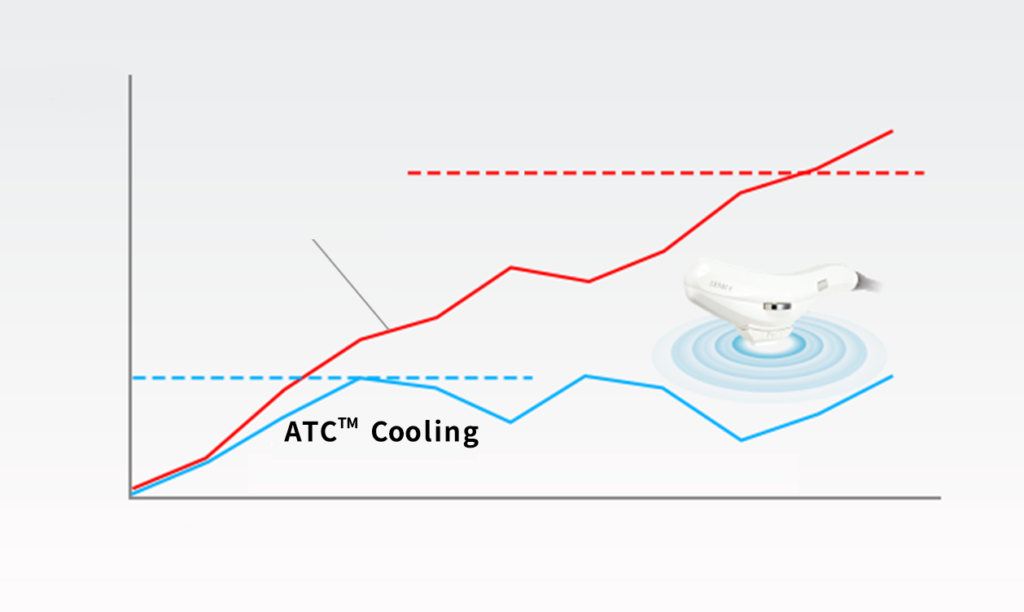 Time
Temperature
Temperature that creates a risk of burn injury
Temperature transition of conventional devices
-10℃ to 0℃ Temperature transition of devices equipped with ATC technology
Proprietary real-time epidermal temperature monitoring system
-10℃ to room temperature can be set according to the indication case
Safety design prevents irradiation if the light guide temperature exceeds the set temperature
*ATC = Automatic Temperature Controller
COMFORT FETURES
Intuitive Operation Panel
The intuitive screen configuration ensures smooth treatment in only 4 steps from cartridge selection to irradiation.
Memory Feature storing 50 parameters
CellecV is equipped with a parameter memory feature that can store up to 50 parameters. Since the device can store not only frequently used parameters, but also parameters for less frequently indicated cases, you can save time and effort in setting up.
Jeisys Online Academy
Available for immediate viewing. Jeisys Online Academy Register here!▶︎
Main Specifications
This product can be used with 220 V outlets (L6-30).
| | |
| --- | --- |
| Filters | 420(S), 500(S), 530(S), 530(D), 550(S), 560, 590, 640, 700 |
| Fluence | 1-60J/cm2 |
| Pulse Duration | 1-60ms |
| Pulse Delay Time | 1-60ms |
| Lamp Type | Xenon Lamp |
| Spot Size | 40mm x 10mm |
| Electrical Power | AC220V(60Hz), 2.5KW, 15Amps (at 220V AC) |
| Weight | 95kg |
| Dimension | 1030mm(H) X 368mm(W) X 565mm(L) ※without articulated arm |