The HIFU medical equipment selected
by physicians around the world
ULTRAcel Q+ (ULTRAcel Q Plus) is a HIFU medical equipment (High Intensity Focused Ultrasound) that has been introduced not only in its home country (Korea) but also in Asian countries such as Japan, Taiwan, Singapore, and Malaysia, as well as in countries around the world including the Middle East, Europe, and South America(e.g., over 700 Japanese physicians have installed it)*. While most people's perception of HIFU is limited to Sagging Medication, ULTRAcel Q+ is the world's first and only linear-shot HIFU medical equipment that can dissolve fat from double chins, upper arms, and other parts of the body.
*As of November, 2022‧Company survey
Product Features
Careful yet quick treatment
A whole face treatment can take as little as 8 minutes! *
The market for the sagging treatment with new HIFU technology equipment is expanding. The treatment meets the needs of patients who do not prefer invasive treatments (surgery), at the same time it is also the treatment of choice for patients new to cosmetic medicine. Careful diagnosis and counseling for non-invasive(HIFU)treatment is just as important as, sometimes even more than those for invasive treatment to build trust with every patient. ULTRAcel Q+ has developed a cartridge that achieves 300 shots in 8 minutes, providing the fastest treatment in the industry, without compromising the level of effect immediately after treatment.
Shorter treatment time allows both clinics and patients to have communication before and after treatment. This contributes to overall patient satisfaction, which is to build an ongoing relationship.
*Theoretical value calculated as 1.5 seconds per shot / 300 shots for whole face sagging treatment
A difference of 1℃ has a significant impact on the repeat customer rate.
HIFU system 'Ultracel Q+' with excellent balance between pain level and effectiveness.
Some physicians say, "HIFU facelift treatment with ULTRAcel Q+ is painless, but it works!" There is a reason for it. ULTRAcel Q+ is one of the medical equipment that uses a technology called "high-density focused ultrasound," which is similar to other HIFU devices in terms of specifications. However, ULTRAcel Q+ is equipped with a proprietary technology that enables stable irradiation at the temperature (60℃ to 65℃) at which protein denaturation begins to occur. This feature allows ULTRAcel Q+ to successfully reduce pain amplification caused by unnecessary heat sensation. In other words, its unique feature contributes greatly to reducing rest time for pain relief and surface anesthesia time during irradiation, as well as to dispelling negative impressions of the treatment.
Excellent rating in stress tests
As a medical equipment that produce effects through thermal action, it cannot claim to be "pain-free". However, the cartridge of the ULTRAcel Q+ is designed with maximum consideration for pain and is described as "less painful" compared to conventional HIFU devices. In addition, the world's first and only linear-shot cartridge (LinearFirm) dedicated for fat dissolution further reduces pain.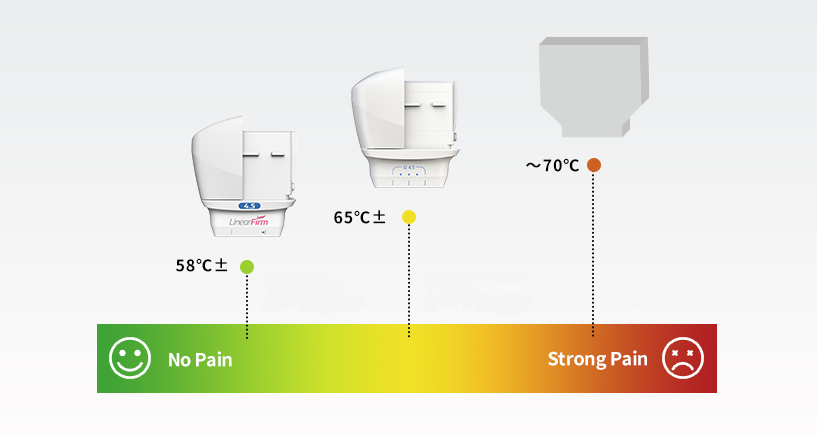 Linear
Cartridges
Dot
Cartridges
Other
HIFU devices
General Principles of HIFU
HIFU is an ultrasound (acoustic energy) focused to a single point at target depth via a transducer built into a cartridge (HIFU). Technology that enables approach without damaging the skin surface or other tissues, as thermal energy is focused only on the target tissue layer. Therefore, HIFU is called to be "the only medical equipment that can reach the SMAS and fascia layer (4.5mm layer)". ULTRAcel Q+ delivers stable and rapid thermal energy at a constant and sufficient temperature for protein denaturation (60℃ to 65℃). Therefore, treatment can be performed with little heat or pain to the patient.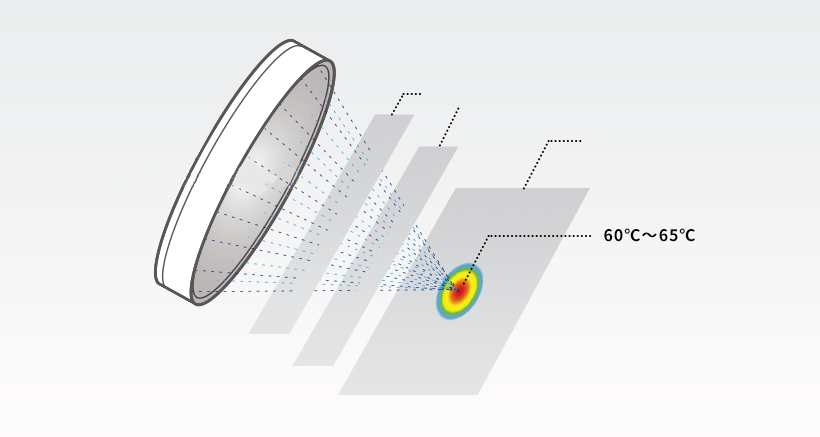 Ultrasonic Transducers
Non-targeted layers
are non-invasive
Target Layer
Approach only at target depth
ULTRAcell Q +, using a next generation HIFU technology, is equipped with 1.5mm, 2.0mm, 3.0mm, and 4.5mm cartridges with different depths to reach each target in the dermis, SMAS, and fat layer. This treatment is not possible with devices such as lasers or radiofrequency (RF), which deliver heat energy widely to superficial layers of the skin. In addition, LinearFirm (Linear Farm/Linear Cartridge) is also available, which spreads thermal energy differently at the same target depth.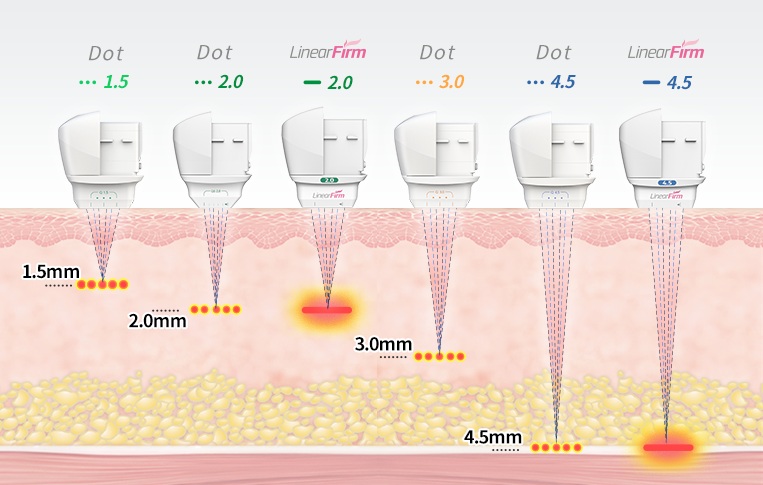 Stable Irradiation realized by Jeisys technology
A coagulation zone is formed at the precise target depth, and the focal size varies with frequency. Each cartridge is designed to fit each indication and treatment area.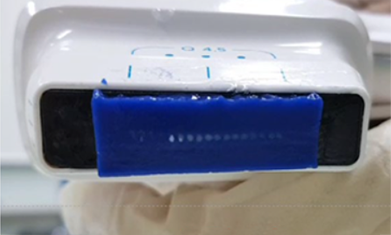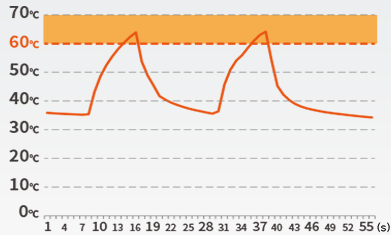 ULTRAcel Q+ can also help to improve overall skin texture & tone,
as well as to dissolve fat
10 types of cartridges address patient needs other than Sagging Medication
ULTRAcel Q+ is equipped with different types of cartridges for the following purposes in addition to facial tightening and lifting. What makes it outstanding is unique innovative linear-shot technology, Linear Firm (Linear Firm‧Linear Cartridge). It is the world's first cartridge dedicated for fat dissolving. Linear Firm is capable of effective body contouring treatment for large areas of the body, such as double chin, bra-bulge, and upper arms, which are often requested by younger generations. You will be able to utilize ULTRAcel Q+ (with Linear Firm) to treat a wide range of age groups.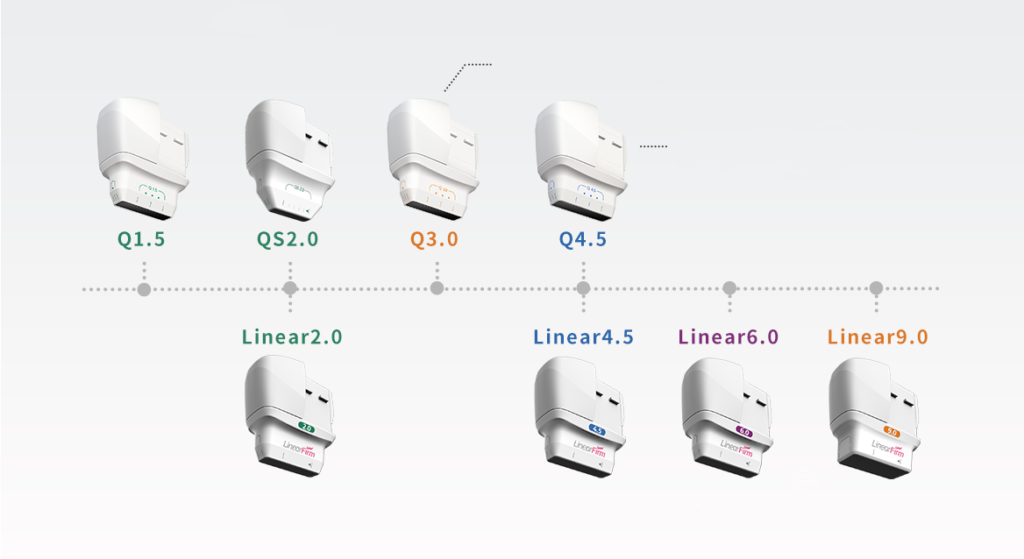 Lift-up by collagen
regeneration
Tightening by coagulation
Rejuvenation/Fat dissolving
Improvement of deep wrinkles
by SMAS contraction
Fat dissolving
Brightening
Reducing the amount of fatty tissue/Tightening


What is LinearFirm dedicated for fat dissolving?
Patients' concerns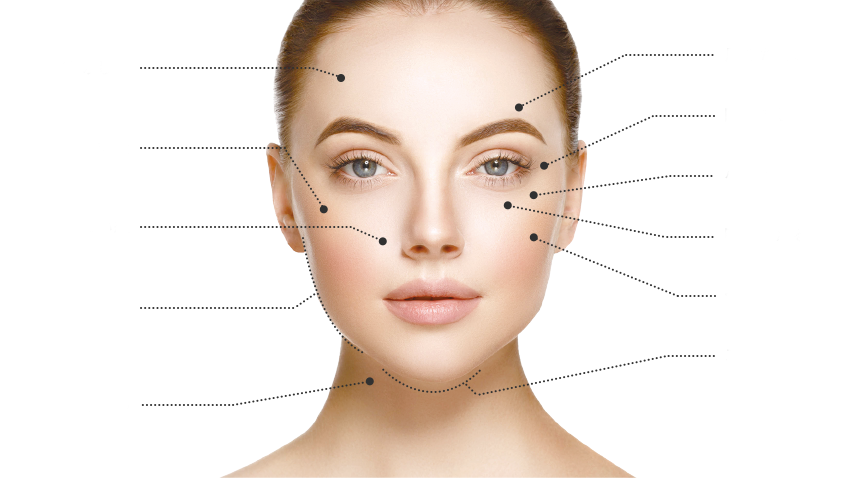 Forehead wrinkles
Pores
Nasolabial folds
Face line
Neck wrinkles
Brow lifting
Crow's foot line
Fine wrinkles
Skin laxity
Cheek dullness
Double chin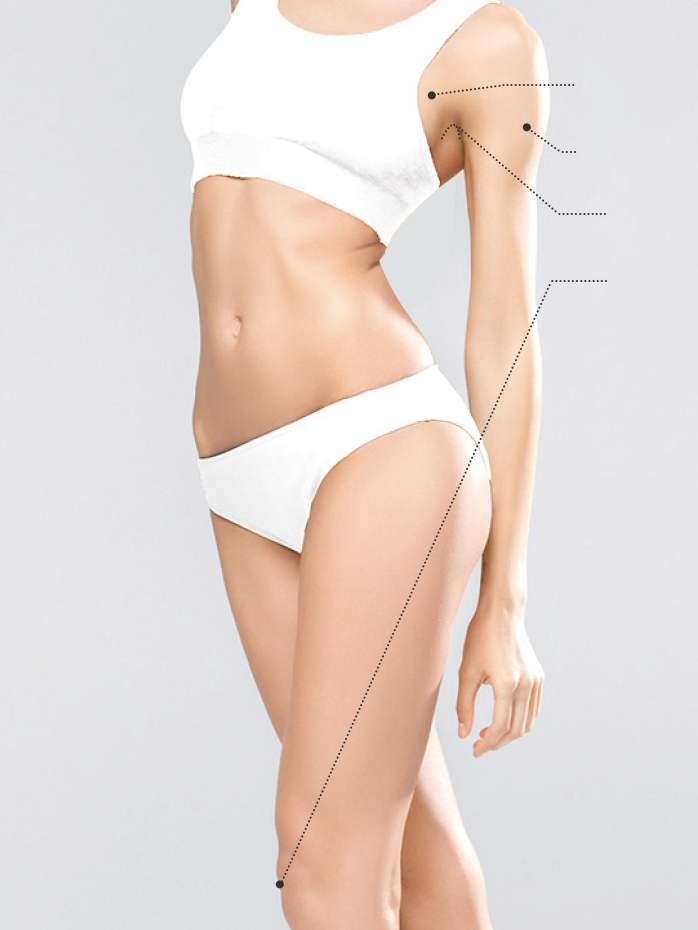 Armpit fat
(Bra bulge)
Upper arm
Axillar
Knees
SAFETY FEATURES
Convenient treatment with slim cartridges with narrow tips enables to obtain better visibility on the spot
ULTRAcel Q+ cartridges are designed for easy viewing of the area to be treated, which ensures safety during irradiation.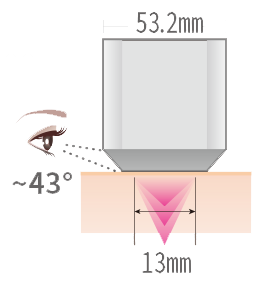 slimmer than
other devices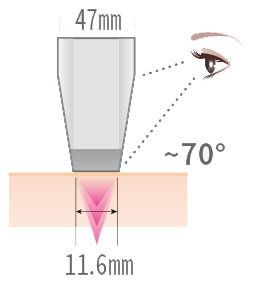 Slim cartridge dedicated for eye rim
It is not always possible to treat a single patient with multiple medical equipment at the same time ; With ULTRAcel Q+, combined treatments are available. Sagging Medication and other treatments can be performed in a single treatment by simply changing cartridges. Particularly user-friendly cartridge is the one with a small irradiation opening dedicated for the area around the eye. It can treat the narrow area like the periorbital area (eye rim). This single, highly versatile device enables efficient medical treatment.
It can treat small areas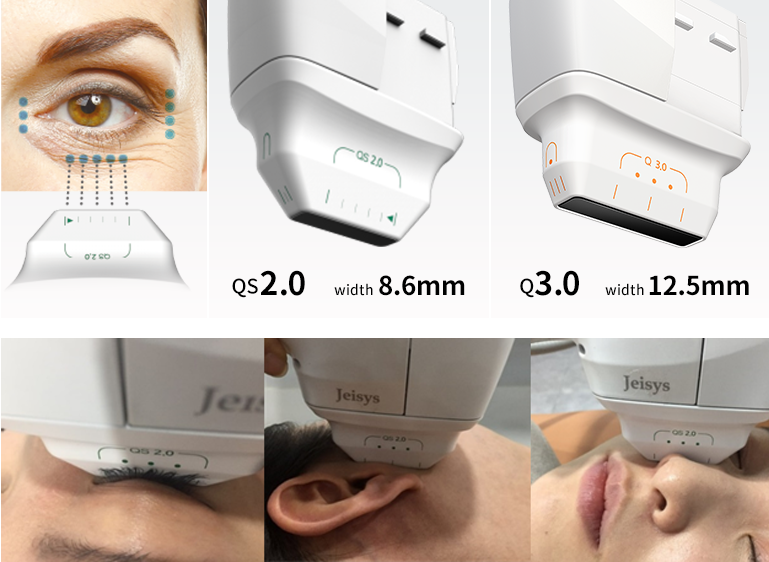 Comfort Features
Large touch panel
The intuitive screen configuration ensures smooth treatment.

It only weighs the equivalent of half of 500ml plastic beverage bottle
Even with the cartridge installed, the handpiece weighs only 440g, less than the weight of a 500ml plastic beverage bottle, reducing the burden during treatment.
Jeisys Online Academy
Available for immediate viewing. Jeisys Online Academy Register here!▶︎
Main Specifications
| | |
| --- | --- |
| Frequency | 2Mhz,4Mhz,7MHz |
| Output Power | 0.1~3.0J/cm2 |
| Dimension | 360×400×980mm |
| Weight | 23.5Kg |
Cartridge Specifications
Dot Cartridge
Q1.5,Q3.0,Q4.5,
Q6.0,Q9.0,QS2.0
Linear Cartridge
0.1~3.0J/cm2
Dimension
87×47×100mm
Weight
180g