The new techoology that opens up possibilities for medical HIFU treatment
LinearFirm is the world's first medical HIFU equipment developed primarily for fat dissolving treatment (fat reduction)for double chin, arms and other parts of the body. The-state-of-the-art cartridge which is attachable to ULTRAcel Q+ opens up the possibilities for medical HIFU treatment for doctors.
NOTICE: LinearFirm requires the installation of an ULTRAcel Q+ unit, as Linear farm is an exclusive cartridge for use with ULTRAcel Q+.
Click here for more information on ULTRAcel Q+
Product Features
For non-invasive treatment for small face and partial slenderize (partial slimming)
Double chin treatment can be completed with only 4 minutes of irradiation*
LinearFirm, which was developed to irradiate the specific area with optimal heat energy for fat dissolution, remarkably reduces treatment time to 1/10 (about 4 minutes) compared to irradiation time (40 minites or more) with conventional medical equipment (non-HIFU equipment). LinearFirm does not use needles or cannulas, making the procedure painless, making medical aesthetic treatments easier to newcomers.
LinearFirm does not use needles or cannulas, making the procedure painless. It is an "easy" treatment method to accept even for patients who are new to aesthetic treatments.
*Theoretical value calculated as 0.7 seconds per shot / 300 shots per treatment
Newly developed irradiation technology—Bulk Heating System
Conventional medical HIFU equipment, which were developed to promote SMAS contraction and collagen denaturation/neoformation, use a continuous point irradiation method to achieve high-density/high-temperature irradiation. Our new system LinearFirm irradiation method spreads the energy over a wider area by 4.5 times in a single shot. This has resulted in a speedup of more than twice that of the ULTRAcel Q+ dot cartridge.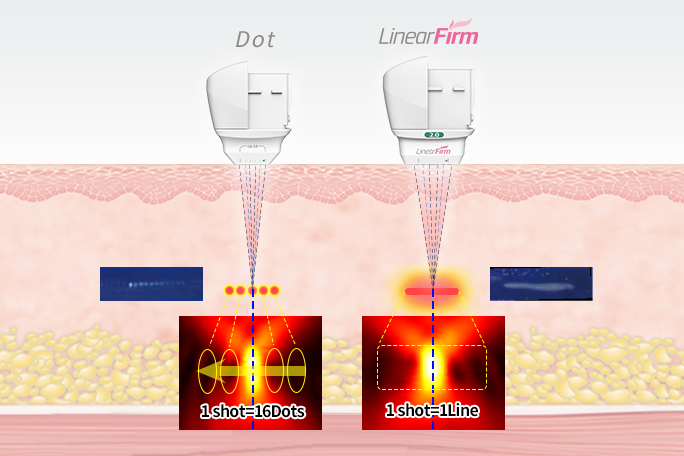 Differences in functions during irradiation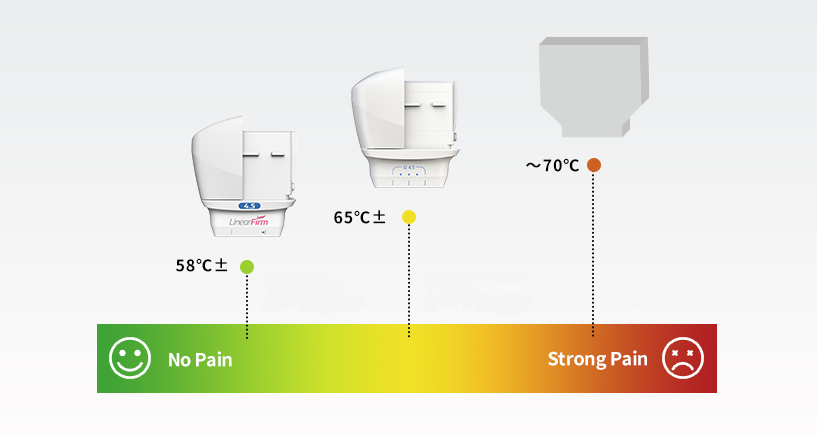 Linear
Cartridges
Dot
Cartridges
Other
HIFU devices
Linear Firm gives no excess heat energy
That makes it less painful
LinearFirm is medical HIFU treatment developed for fat reduction. It is equipped with improved HIFU technology that allows irradiation at a temperature sufficient for fat dissolution (around 58°C), so many patients feel even milder pain than with conventional dot irradiation (63°C).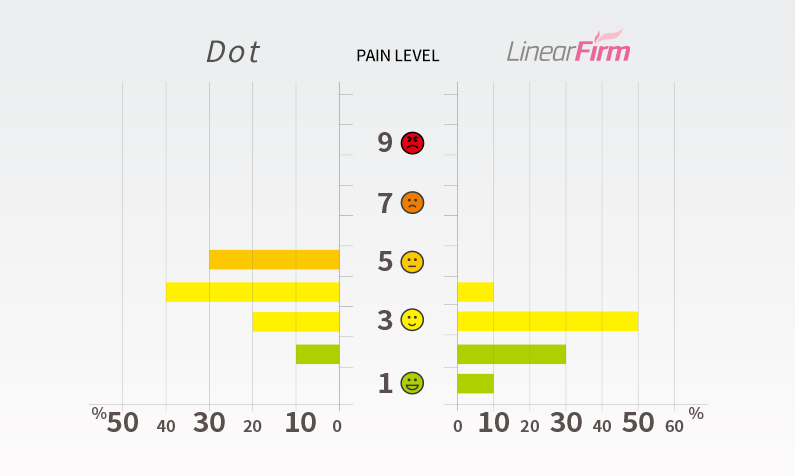 *Pain perception varies from person to person.
Cartridge exclusively for brightening, targeting the dermis layer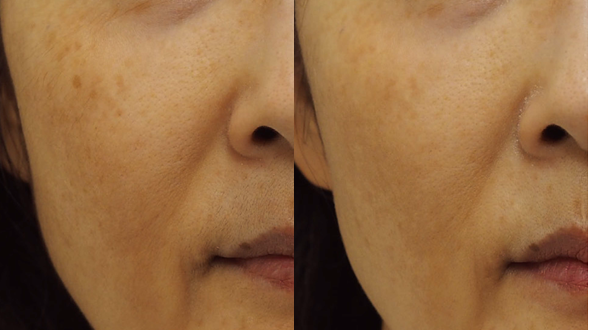 Medical HIFU technology, which delivers heat energy only to the target depth, and its bulk heating technology, which spreads heat over a wide area in a single shot. It can be used for brightening and rejuvenation purposes such as redness skin, pores, fine lines and wrinkles.
Patient Requests
Skin texture
tone improvement
Double chin
(Chin line)
Armpit fat
(Bra bulge)
Upper arm
Axillar
Knees